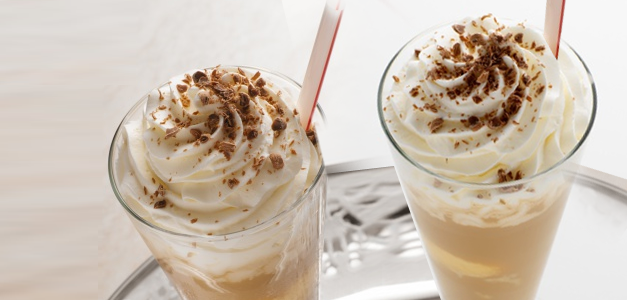 Ingredients:
1   cup 
plus 1 tablespoon sugar
1/2  cup 
water
1   cup 
unsalted roasted peanuts
1/2  teaspoon 
cinnamon
1   teaspoon 
kosher salt
3/4  cup 
sweetened condensed milk
2   tablespoons 
instant coffee mixed with 1 1/2 teaspoons of hot water
1/2  cup 
heavy cream
1 litre Bellissimo Premium 
Vanilla Ice cream
Directions: 
1. Lightly grease a baking sheet. In a small saucepan, combine 1 cup of the sugar with the water and bring to a boil. Cook over moderately high heat, undisturbed, until an amber caramel forms, about 12 minutes. Remove the saucepan from the heat and stir in the roasted peanuts, cinnamon and salt until the peanuts are evenly coated. Scrape the caramel mixture onto the prepared baking sheet and spread in an even layer. Let stand until the brittle is hardened, about 20 minutes.
2. Break off 4 medium-size pieces of peanut brittle. Place the remaining brittle in a resealable plastic bag and roll with a rolling pin to crush the brittle into small pieces.
3. In a medium bowl, whisk the sweetened condensed milk with the dissolved instant coffee. In another medium bowl, using an electric mixer, beat the heavy cream with the remaining 1 tablespoon of sugar at high speed until softly whipped.
4. Scoop the Bellissimo Premium Vanilla Ice cream into 4 bowls and drizzle with the milky coffee. Sprinkle with the crushed peanut brittle and top with a generous dollop of whipped cream. Garnish with the reserved pieces of peanut brittle and serve at once.
TIP: Make the brittle ahead of time. Large chunks of the peanut brittle can be kept in an airtight container for up to 5 days.